---
Med-linket Company Profile
Company Profile
We are a leading manufacturer and exporter of medical cables and sensors, with over 19 years of experience in the industry. Our products include a range of high-quality medical devices such as OEM compatible SpO2 sensors, ECG/EKG cables and leads, NIBP cuffs, IBP cables and transducer, EEG, TEMP probes, ESU pencils and accessories. Our commitment to quality is reflected in our CE and ISO13485 certifications, and most of our products are also FDA approved.
Med-linket is a company that takes its mission seriously and is committed to making a positive impact on people's lives. As its products continue to be sold all over the world, it's clear that Med-linket is succeeding in its mission to make medical care easier and people healthier.
Exhibition information
Med-linket showcased our company's developed active consumables designed specifically for anesthesia surgery and ICU at various medical exhibitions around the world. Meanwhile, Midea actively integrates innovation, closely following the needs of the clinical and consumer markets, and has developed a variety of innovative products to contribute wisdom and strength to the global health community.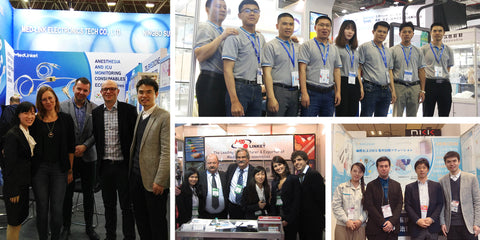 R&D capacity
Our product has successfully passed aging, bending, and insertion/removal tests, demonstrating its durability and sturdiness. Additionally, it has excellent biocompatibility and poses no biological harm to the skin.